Former Charles County substitute teacher charged with sexually abusing multiple students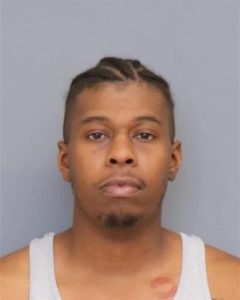 Former Charles County substitute teacher Malcolm Xavier Fluellyn
Washington, D.C. area ABC affiliate WUSA reports that a former substitute teacher in Charles County faces more than 30 counts of sexual offenses stemming from the 2022-2023 school year. Malcolm Xavier Fluellyn was a long-term substitute teacher after Charles County Sheriff's deputies say he sexually abused multiple students at a Charles County middle school. According to the Sheriff's Offices, detectives began investigating Fluellyn in February following reports of "inappropriate sexual contact" towards students while he worked as a substitute teacher at General Smallwood Middle School in Indian Head, Maryland.
Investigators state that they have identified several instances of "inappropriate physical contact" between students and Fluellyn. Additionally, Fluellyn allegedly exchanged messages through text and social media with students. Following his arrest, Fluellyn faces charges including 12 counts of displaying obscene matter to a minor, eight counts of sexual solicitation of a minor, six counts of fourth-degree sex offense, and six counts of sexual abuse of a minor.
Indicted by a grand jury on Friday, April 29th, 2023, a judge ordered the former substitute teach to be held without bond at the Charles County Detention Center. Detectives believe there may be other victims and are asking parents to discuss any inappropriate contact or messaging between students and Fluellyn. If you or a loved one have any information regarding Fluellyn and his alleged crimes against minors, contact Detective J. Smith at (301) 609-6479.
Sexual Abuse Lawyers with a 100% Success Rate
At Estey & Bomberger, we are dedicated to providing clients with world class care. We have a perfect record holding sexual predators accountable for their actions and have achieved record setting results in the process. The team at our law firm also includes certified sexual assault victim advocates. This allows us to support clients at every step of their journey towards justice. We strive to help survivors of sexual abuse with world-class legal counsel and a range of services to help heal from the trauma they have suffered.
We offer confidential and 100% free consultations. This allows you to ask any questions you may have about your claim before moving forward with our law firm. We also work on a contingency basis, so you don't pay a penny unless we win your case.
If you or a loved one is a survivor of Former Charles County substitute teacher Malcolm Xavier Fluellyn, contact us today to learn more about how we can help you achieve justice and fair compensation.